The Meadows B&B, 57 Mountbatten Drive, Newport, Isle of Wight PO30 5SJ
B&B - Sleeps 4
Welcomes adults,

Average Rating from 1 reviews: 5.00
Review
Review No. 1 of 1
Recommended by:
T.J from Muscat, Oman
Our party:
Stayed:
4 Nights
September - 2010
Wanted:
Walking
Touring
Beach / Sea
Shopping
Entertainment
Local Food
Summary:
"Overall, I consider that the Meadows is a real gem of a B & B and outstanding value for money"
I loved my stay at the Meadows and would recommend it wholeheartedly. Denise is a very warm and welcoming hostess, for whom nothing seams too much trouble.


The en-suite bedroom is beautifully appointed, with a very comfortable bed and wonderful attention to detail. There is plenty of closet space and the hospitality tray is very generous.


The Freeview TV reception is excellent and the free Wi-Fi is fast and reliable. The bathroom is bright, spotlessly clean and has a great power shower.
Specifically Recommend:
The English breakfast is delicious, filling and served in a lovely setting.
T.J - Muscat - 2010
Owner's Reply:
Please note, assistance dogs are welcome.
Overall Rating:
| | |
| --- | --- |
| Comfort | |
| Cleanliness | |
| Meals / Kitchen | |
| Bathroom Facilities | |
| Quality Of Items | |
| Useful Info | |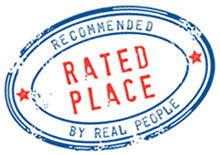 Recommended on 04/10/2010
By T.J from Muscat, Oman
I CONFIRM this review is authentic, having been written by a bona-fide paying guest, and is factually accurate at the time of posting - Denise Brewer

If you found this review helpful, please
like
Rated Places on facebook.