The Cottage Beyond, Kittisford Barton, Wellington, Somerset, TA21 0RZ
Self-catering - Sleeps 16
Welcomes Adults, children, dogs by prior arrangement

Average Rating from 2 reviews: 5.00
Review
Review No. 2 of 2
Recommended by:
Alison W - West Sussex
Our party:
Stayed:
3 Nights
January - 2015
Wanted:
Relaxing
Walking
Local Food
Swimming Pool
Touring
Beach / Sea
Shopping
Entertainment
Summary:
"Amazing, large, luxury home - perfect for a relaxing holiday"
The property is set in a quiet location, with its own fabulous pool, sauna and jacuzzi. It has all number of games and outdoor activities for both adults and children.

It is perfect for anyone with mobility issues, with a ground floor, en-suite room. The owners, their dog Pepsi and the pigs, Apple and Blackberry, are very friendly. Ideal if you like to walk and geocache. Our second visit, as wonderful as the first.
Specifically Recommend:
Perfect for a large family get together with members of all ages!
Local Gems:
We had a great time at the Sheppys Cider farm. Interesting museum, great cider tasting and lunch in the fabulous Tea Room.
Alison W from Worthing, West Sussex - 11th May 2015
Overall Rating:
| | |
| --- | --- |
| Comfort | |
| Cleanliness | |
| Meals / Kitchen | |
| Bathroom Facilities | |
| Quality Of Items | |
| Useful Info | |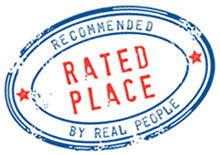 Recommended on 11/05/2015
By Alison W - West Sussex

If you found this review helpful, please
like
Rated Places on facebook.
Copyright © 2019 rated-places.com | All rights reserved |
Design by Lightbulb
|
Website
by Firestorm Online Ltd | on 19 September 2019