Orlege End, Crosswoodhill Farm, by West Calder, West Lothian, Scotland EH55 8LP
Self-catering - Sleeps 6
Welcomes adults, children, dogs,

Average Rating from 1 reviews: 5.00
Review
Review No. 1 of 1
Recommended by:
J.M from Malta
Our party:
Adults:
Ages:
Children:
Ages:
Stayed:
7 Nights
March - 2010
Wanted:
Relaxing
Touring
Shopping
Local Food
Walking
Beach / Sea
Entertainment
Summary:
"Our experience was wonderful, one which I will never forget"
The accommodation was wonderful. The owner is very welcome and the cottage and its surroundings is beautiful.

It is situated approx 40 mins drive from Edinburgh airport. It is modern, welcoming, luxurious and relaxing and in it you can find anything you need.
Specifically Recommend:
I recommend to book this cottage since we had a wonderful time there!
Be Aware:
You need to hire a car since without it it is impossible to go round the wonderful places. Even the nearest supermarket is around 15 mins' drive away.
Local Gems:
There is a big shopping complex in Livingstone approx 30mins away by car
Overall Rating:
| | |
| --- | --- |
| Comfort | |
| Cleanliness | |
| Meals / Kitchen | |
| Bathroom Facilities | |
| Quality Of Items | |
| Useful Info | |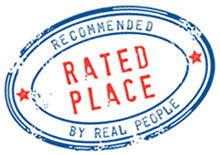 Recommended on 07/04/2010
By J.M from Malta
I CONFIRM that this review is authentic, having been written by a bona-fide paying guest, and is factually accurate at the time of posting - Geraldine Hamilton

If you found this review helpful, please
like
Rated Places on facebook.