Kingfisher at Holcombe Valley Cottages , Chalky Road, Broadmayne, Dorset DT2 8PW
Self-catering - Sleeps 4
Welcomes adults, children,

Average Rating from 1 reviews: 5.00
Review
Review No. 1 of 1
Recommended by:
Fiona B from Burgess Hill
Our party:
Stayed:
12 Nights
March - 2010
Wanted:
Relaxing
Touring
Beach / Sea
Shopping
Entertainment
Local Food
Summary:
"One of the loveliest places to stay in Southern England"
Didn't see an advert, but found the accommodation online several years ago. I have been going back each year since, my last visit being my 7th.

The website gives an excellent idea of the cottages, with lots of nice photos too. I have been so pleased with this accommodation that it is the only place I choose to stay when I visit Dorset.

There are four cottages situated around a courtyard, in a lovely peaceful valley setting about a mile from the nearest village and about 3 miles from the coast - both of which can be walked to. Dorchester is about 5 miles away, and both Purbeck and the rest of West Dorset are within easy distance - a perfect location. The surroundings are fields and gently rolling downland - ideal for walking.

The cottages vary in size and each is of top quality. The owners recycle as much as possible and use environmentally friendly products. They keep a few hens - so gifts of freshly laid eggs are not uncommon. There are always very nice little extras when one arrives, eg tea, coffee, biscuits and flowers. They maintain very high standards in the cottages, which are always spotless. Above all else, they are the most hospitable of owners.
Specifically Recommend:
Everything!

The Jurassic Coast is near at hand for those who want beaches, there is lots of excellent walking both on the coast and inland and plenty of visitor attractions, both for children and adults.

The owners provide ample information - guidebooks, maps, leaflets etc.
Be Aware:
This is a place to come for peace and quiet. Those who want lots of nightlife on the doorstep should go elsewhere!
Local Gems:
Abbotsbury is a charming village with lots of interest and in a lovely situation.
En Route:
Travelled straight from home, only c. 2.5 hours, so no need to stop.
Fiona B from Burgess Hill - April 2010
Overall Rating:
| | |
| --- | --- |
| Comfort | |
| Cleanliness | |
| Meals / Kitchen | |
| Bathroom Facilities | |
| Quality Of Items | |
| Useful Info | |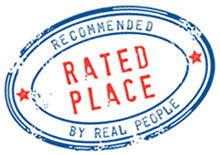 Recommended on 02/04/2010
By Fiona B from Burgess Hill
I CONFIRM that this review is authentic, having been written by a bona-fide paying guest, and is factually accurate at the time of posting - Peter Davies

If you found this review helpful, please
like
Rated Places on facebook.
Copyright © 2019 rated-places.com | All rights reserved |
Design by Lightbulb
|
Website
by Firestorm Online Ltd | on 21 April 2019