Into the Woods - Shepherds Hideaway, Lower Westwood, Brocks Copse Road, Wootton Bridge, Ryde, Isle of Wight PO33 4NP
Self-catering - Sleeps 6
Welcomes Adults, children - room for cot

Average Rating from 1 reviews: 5.00
Review
Review No. 1 of 1
Recommended by:
Jenny G - London
Our party:
Stayed:
2 Nights
September - 2014
Wanted:
Walking
Touring
Shopping
Entertainment
Local Food
Summary:
"Cosy, clean and unique Scandinavian style woodland cabins with warmth!"
The property exceeded our expectations! The Hideaway is set down a well-manicured track in the woods (with lights). The cabins were clean and very cosy.

The bathrooms looked brand new - everything was in excellent condition.

The site contained a lawn where we played games and a Den (large shed) with table tennis. All the things you needed were provided - two towels each, tea, coffee etc.
Specifically Recommend:
Going in the summer - it might be a little claustrophobic if you couldn't be outside.

The owners were so hospitable, which was very welcoming and we loved their honesty egg box!
Local Gems:
The 30 minute walk to the Woodside Beach was a great place for a picnic by the sea without going too far.
Jenny G, London SW6 - 15th September 2014
Overall Rating:
| | |
| --- | --- |
| Comfort | |
| Cleanliness | |
| Meals / Kitchen | |
| Bathroom Facilities | |
| Quality Of Items | |
| Useful Info | |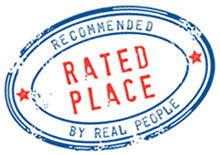 Recommended on 15/09/2014
By Jenny G - London
I confirm Jenny was a bona-fide paying guest at the Shepherds Huts. The content of her recommendation was not incentivised and is factually accurate at the time of writing.
Fiona Headington, Into the Woods, 22nd September 2014

If you found this review helpful, please
like
Rated Places on facebook.