Farleigh Cottage, Lower Street, Chagford, Devon TQ13 8AZ
B&B - Sleeps 6
Welcomes adults, children,

Average Rating from 1 reviews: 5.00
Review
Review No. 1 of 1
Recommended by:
Colin S from London
Our party:
Stayed:
3 Nights
April - 2010
Wanted:
Relaxing
Touring
Beach / Sea
Shopping
Entertainment
Local Food
Summary:
"I very much enjoyed my first visit to Chagford and hope to go again soon"
The cottage and self-catering unit face each other across a courtyard, which gives the place a secluded atmosphere despite being in the town centre.

There is a pretty garden.

Exceptionally friendly welcome and hospitality
Specifically Recommend:
Warm hospitality

Excellent breakfasts
Local Gems:
Chagford is a small, hilltop town on the edge of Dartmoor. It has many interesting buildings, pubs and tea-rooms.

The Fingle Bridge Inn, 5 miles away along the Two Moors Way, makes a fine destination for a day's walk.

Castle Drogo, a National Trust property, is nearby and well worth visiting.
Owner's Reply:
Thank you to Colin for this lovely review - a very nice guest who came to walk a huge number of miles in the Chagford Challenge.
Overall Rating:
| | |
| --- | --- |
| Comfort | |
| Cleanliness | |
| Meals / Kitchen | |
| Bathroom Facilities | |
| Quality Of Items | |
| Useful Info | |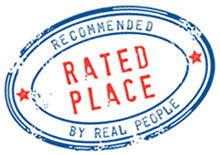 Recommended on 22/04/2010
By Colin S from London
I CONFIRM that this review is authentic, having been submitted by a bona-fide paying guest, and is factually accurate at the time of posting - Lyn Evans, owner

If you found this review helpful, please
like
Rated Places on facebook.