Dunkery Beacon Country House, Wootton Courtenay, Near Minehead, Exmoor, Somerset TA24 8RH
Hotel - Sleeps 16
Welcomes adults, children, dogs,

Average Rating from 1 reviews: 5.00
Review
Review No. 1 of 1
Recommended by:
Katie M from Charlton Adam
Our party:
Stayed:
2 Nights
August - 2013
Wanted:
Relaxing
Walking
Local Food
Touring
Beach / Sea
Shopping
Entertainment
Summary:
"An excellent hotel providing the warmest of welcomes!"
Dunkery Beacon Hotel is set in the heart of Exmoor with beautiful views of the moors and direct access to the paths leading to the Beacon.

Both the rooms and the restaurant were of an excellent standard. Our experience met or exceeded our expectations in all respects. A choice of feather or hypo-allergenic duvets and pillows, homemade scones on arrival, homemade biscuits in our room and the warmest of welcomes made our stay very special.

This is a hotel to return to again and again. Book early - they are very popular it seems!
Specifically Recommend:
The entire experience was worthy of recommendation. Perfectly peaceful
Local Gems:
Wonderful walking on Exmoor of course!
Katie M - Charlton Adam - 7th September 2013
Overall Rating:
| | |
| --- | --- |
| Comfort | |
| Cleanliness | |
| Meals / Kitchen | |
| Bathroom Facilities | |
| Quality Of Items | |
| Useful Info | |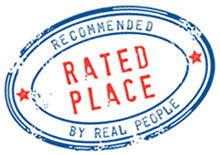 Recommended on 07/09/2013
By Katie M from Charlton Adam

If you found this review helpful, please
like
Rated Places on facebook.
Copyright © 2019 rated-places.com | All rights reserved |
Design by Lightbulb
|
Website
by Firestorm Online Ltd | on 19 September 2019