Cotoneaster Cottage - Little Swinton Holiday Cottages, Little Swinton, Coldstream, Berwickshire, Scottish Borders, Scotland TD12 4HH
Self-catering - Sleeps 7
Welcomes adults, children, dogs, wheelchairs

Average Rating from 1 reviews: 5.00
Review
Review No. 1 of 1
Recommended by:
Keith C from Hartlepool
Our party:
Stayed:
7 Nights
May - 2013
Wanted:
Relaxing
Walking
Touring
Shopping
Entertainment
Summary:
"A fantastic holiday cottage that offers everything from games to play to Wi-Fi and telephone, if mobile fails"
We left Hartlepool under heavy rain and severe winds and arrived on 18th May 2013, to a warm welcoming smile from Sue the owner. She handed over the keys to the cottage where we found it warm and friendly. Once we settled down we lit the open fire to dry us through.

Every room was nice and cosy, with welcoming warm beds. Every aid required for every task was available.

We toured the area each day, returning to a warm home. Alas the time came when we had to pack. We toyed with the idea of barricading ourselves in, but common sense prevailed and we reluctantly left, promising to return again.

I would recommend any of the cottages any time.
Specifically Recommend:
The solitude

Excellent neighbours.

Sun trap

Only 10 minutes from Coldstream if needed.
Local Gems:
All of the Border towns
Keith C & Scooby the dog - 25th May 2013
Overall Rating:
| | |
| --- | --- |
| Comfort | |
| Cleanliness | |
| Meals / Kitchen | |
| Bathroom Facilities | |
| Quality Of Items | |
| Useful Info | |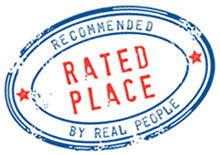 Recommended on 25/05/2013
By Keith C from Hartlepool

If you found this review helpful, please
like
Rated Places on facebook.