Beech Lodge, Butts Green, Lockerly, Romsey, Hampshire SO51 0JG
Self-catering - Sleeps 2
Welcomes adults,

Average Rating from 2 reviews: 4.75
Review
Review No. 2 of 2
Recommended by:
C. S from Wokingham
Our party:
Stayed:
7 Nights
March - 2009
Wanted:
Relaxing
Walking
Local Food
Fishing
Touring
Beach / Sea
Shopping
Entertainment
Summary:
"We had a fab time at Beech Lodge - it's newly finished so we were lucky enough to be some of its first visitors. The area is quite lovely and made for such a relaxing break away from it all"
The accommodation is newly built and was of a very high standard. The style was contemporary yet homely, which gave it a very cosy feel but provided all the mod-cons.

Use of a courtyard and access to a lovely paddock is included by the owners, both of which would be fab on a sunny day (shame we didn't have one ourselves!)

This is a lovely part of the world and Beech Lodge is in the perfect location as it is in the heart of the country, but close enough to easily visit Romsey, Southampton or the New Forest.

The accommodation was lovely, everything you need was provided plus a bit more! The owners were very welcoming and we had no problems during our stay but are sure they would be more than happy to help if needed..
Specifically Recommend:
The fishing is excellent in this area on the famous River Test, and we also visited Mottisfont Abbey which was really lovely.
Be Aware:
There is a local shop which provides everything you need but it closes at 8pm so you need to make sure you plan ahead
Local Gems:
Excellent local fishing although quite pricey.

Romsey is a lovely little market town with just the right selection of shops.

The Mill pub just a few minutes' away was lovely
En Route:
We stopped in Stockbridge for tea on the way from Reading - this is a lovely village well worth a visit
Overall Rating:
| | |
| --- | --- |
| Comfort | |
| Cleanliness | |
| Meals / Kitchen | |
| Bathroom Facilities | |
| Quality Of Items | |
| Useful Info | |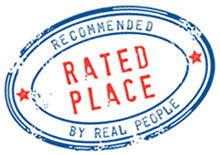 Recommended on 15/04/2009
By C. S from Wokingham
Awaiting response from owners to confirm that this reivew is 'accurate & authentic'

If you found this review helpful, please
like
Rated Places on facebook.